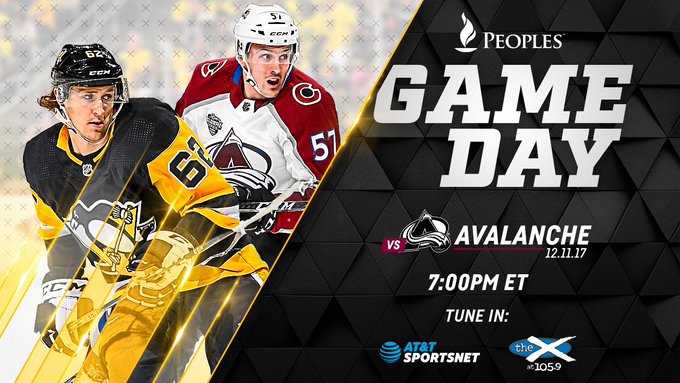 Lines at Practice (per Twitter)

@pensinsidescoop

#Pens lines:

Guentzel-Crosby-Sheary

Rust-Malkin-Kessel

Simon-Sheahan-Hornqvist

Hagelin-Rowney-Reaves

Dumoulin-Letang

Maatta-Hunwick

Cole, Ruhwedel and Czuczman are rotating.

Murray is working in his usual net.

-MC
Quote Roundup: Pens vs Avs

Here's what the Pens were saying in the locker room heading into their game against Colorado…

https://www.nhl.com/penguins/news/quote ... -293898772

ON HAVING A BETTER START

Hornqvist: "I don't think it's hard to get a better start. We have to find a way to get four lines rolling right away and simplify our game. We've been saying this for 30 games here, but enough is enough. That's something we have to be better at and we will be better, too."

Maatta: "I don't think it's anything X's and O's. It's a mindset. We just have to be ready. The second and third period (against Toronto) we played pretty good, but it takes being three-goals down to get that effort level up. We have to make sure we have that right from the hop. "

ON THE AVALANCHE

Sullivan: "They're another team that has a lot of skill. They play a speed game, they've got a similar game to ours. They're a speed team, they have a lot of skill up front. It's one of those games where if we're careless with the puck or we don't take care of the puck, they're a team that can hurt you in transition. They've got some defensemen on the back end that help their transition game. I think that's the most dangerous aspect of their game. Once again, our team's biggest challenge is going to be our ability to manage the puck."

Maatta: "Lots of skill, really good offensively and lots of speed. It's going to be a huge challenge for us. The focus has to be on our game. We have to make sure we have a good start and play a full 60 minutes."

Rust: "They're a young team. They didn't really have a whole lot of expectations from the outside world, but within their room they probably had a lot of expectations. Anytime you get a team that's young and hungry, when they just try to work as hard as they can anything's possible. With them, they're riding a little bit of confidence. They're young and they're playing hard."

Hagelin: "They had a long summer, a lot of their guys are probably looking for a bounce-back season. They have a lot of young players that are enthusiastic for the moment and it's working out for them."

ON COLORADO'S FACEOFF STRUGGLES

Crosby: "I think it makes a big difference in the game. It's a stat that probably gets overlooked a lot. I think the benefit of being able to win those, maintain possession of the puck and start off the shift right is a big plus. Hopefully that's something we can continue to get better in, obviously it's always a key part of games."

Rowney: "I think as a centerman that's your job to win that faceoff. Anytime you can start off with the puck instead of chasing it, I think it's an advantage. I think it's something you have to focus on every game, but tonight we have to go out and take advantage."

ON FINISHING UP THEIR HOMESTAND

Crosby: "I think when you're on the road as much as we were, it's great to get home and you want to take advantage of those home games, especially when they're all clumped together like this, which is pretty rare for us. Usually we're one here, one somewhere else. I think it's something we want to build momentum with and we haven't been able to do it the way we've wanted to, but hopefully we can build off the last couple of periods against Toronto. We need more of that if we want success."

INJURY UPDATES…

Hornqvist, who left Saturday's game against Toronto after a puck deflected up and hit him in the helmet: "I got hit on the side of my head there and got a little pressure. Went in here and it hurt too bad to get back out there. Feel better today and hopefully I can play tonight. Everything was fine, we did all the protocols there and it was just the pain was a little too much to go back out there. I think it was a smart move and hopefully I can keep getting better here and play tonight."

Kuhnhackl, who left Thursday's game against NY Islanders after colliding with Reaves: "I feel alright. It was a big guy that I ran into. We'll see how it feels tonight. We'll see how it reacts. It just happens. It's a fast game, an intense game. The puck changes direction a lot of times. It's unfortunate but it just happens."