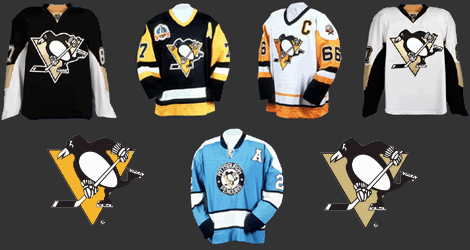 I took the liberty to start an OFFICIAL thread for all jersey & Pens merchandise discussion.
Customization, stripping, authenticity of jerseys and other Penguins gear discussion & questions.
Much better to keep it all in the same thread for archiving purposes etc.
LETS GO PENS and HAPPY COLLECTING
---
I will also add to the first post a quote of

jeffshly

s post on the

DIFFERENCE BETWEEN REEBOK JERSEYS!
jeffshly wrote:You've brought to light in this forum the same questions that I get asked from friends all the time. I'll caution everyone that this post is going to be long, but it'll answer your questions and probably those of many reading this site.

You ordered a Premier Replica jersey. These are the same jerseys available at your local Dick's Sporting Goods for $170 as well. They're made of a lesser grade material than that used on authentic (I'll get to that word in a minute) jerseys. The biggest difference, however, is the lettering. The Penguins used three-layer glacier twill letters on their home and away jerseys for both nameplates and numbers. On the alternate jerseys, the numbers are two-layer and the nameplates are single-layer tackle twill. Premier jerseys use really cheap, single-layer letters and numbers that are printed to look like they're multi-layer, right down to printed stitch marks between "layers." I suspect this is what you have.

The next step up is the Reebok Edge 7231 jersey. This jersey is identifiable by the neon green/yellow ribbon in the neckline. These are known as "retail authentics" or "IndoEdge" jerseys, since they're made in Indonesia. To explain the history, let's take a step back. When Reebok redesigned the hockey jersey as we know it, they created the Edge jersey. This jersey was made of a polyester material that was implemented to wick moisture away from the player's body, keeping them cool and dry during play. The jersey was also tighter to the body than its predecessors to allow the jerseys to be more in contact with a player's body, therefore allowing the jersey to wick the moisture that it came in contact with away. There was one slight problem with this jersey: it didn't work. It actually worked against the players, as there were countless complaints about players having to dump sweat out of their gloves because the jersey actually held moisture inside. After about half a year, the original Edge jerseys (known as Edge 1.0) were scrapped in favor of the Edge 2.0 jerseys. These jerseys were still tight to the body and followed the same cut as the original Edge (Reebok didn't want to scrap the whole design they spent millions on), but they used the same CCM Air-Knit material that's been used on many jerseys since the early-90's, including the CCM 61000 jerseys used immediately prior to the Edge's unveiling.

So back to the 7231 "IndoEdge." Reebok, in an attempt to maximize profits, came up with a jersey of lesser quality material in durability than the Edge 2.0 and are having it made in Indonesia. These "authentics" (word in quotes because they're called "authentics" even though there's nothing "authentic" about them) are sold through the Reebok/Adidas (same company) apparel division. They're not made to withstand the wear and tear of game use, but they're cut using patterns very similar or identical to Edge 2.0 jerseys. Having the same cut, they can use the same lettering kits, and they come with reinforced elbows and shoulders as well as a fight strap. These "retail authentics" sell in the $300-350 range, without lettering, at retail, though you can easily find them at a discount.

The jerseys worn on the ice by the Penguins are Reebok model #7287, known as the Edge 2.0. They feature the Edge cut, the reinforced elbows and shoulders, a fight strap, and the old CCM Air-Knit material. They're made at the old CCM factory in Canada and are sold by Reebok/CCM (again, same company) equipment division. They're not readily available at retail. They, too, sell for $350-ish without lettering, if you can find them, but since they're so hard to find, can rarely be bought at a discount.

As blurryhaze mentioned, House O' Hockey in Murrysville can letter a jersey using the authentic lettering kits (same letters/numbers as are used on Penguins on-ice jerseys). They also have quite an inventory of 7231 IndoEdge jerseys, though in my recent conversations with the owner, I'm told he's working on being able to offer 7287's within the next year. If those jerseys are out of your price range, HoH also sells Premier jerseys with the authentic lettering sewn on in the $200 range. They have a store on eBay, but can also get you whatever you want that may not be listed on their site.

One of my bucket list items is to put together a website showing the differences between replicas, authentics, and Chinese knockoff jerseys using photos from my jersey collection. It's been on my bucket list for quite some time and I'm no closer to doing it now than I was ten years ago (life happens), but I'm happy to send you some pictures (or post them here if I could figure out how) to help answer any questions you may have.

I hope this information helps.