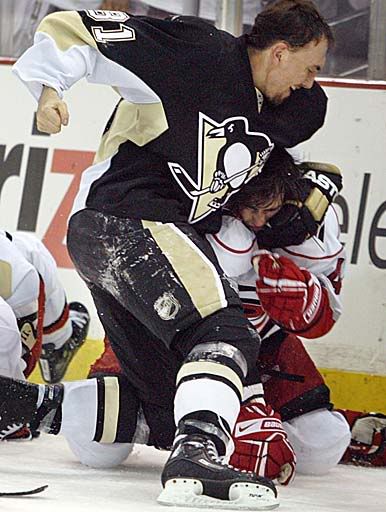 That's right, it is that time again. This time, you may choose an NHL player/personality of your choice. Similar rules as Pavel used last time. We are determining to what extent roles will be revealed. Canaan, NAN, and I are gangbanging this one as Mods.
Days are 24 hours or majority of vote
Nights are 24 hours or until all night roles have actions in
Rules
1. This game will be heavily moderated for the night phases. Do not talk during them. You get two warnings, in other words I'll let you screw up exactly two times before I suicide you for talking during a night phase. Once a vote majority is reached, or a day ends is when the night phase begins. There will be a 5 min grace period at the end of each day since I know a lot of people are frantically typing messages and what not. *I will post a list at the beginning of each day with who has a warning and how many they have. if anyone has a warning*
2. **Do not quote any PMs you receive from the Mod, if you do, you will be suicided. (This doesn't include posting a link to a game day thread)
3. **If you forget your role, or you delete it, that is your own fault. I suggest not doing either.
4. All 'votes' must be in yellow or blue. If they are not, they will not be tallied.
5. Once your death scene has been posted, you are dead. You can no longer post anything revealing or of substance. Whining is alright, **Voices from beyond the grave** are alright, as long as nothing of substance is revealed.
6. You may vote 'no lynch' to end the day without a death.
We'll shoot for around 25 players or so. Game will start Monday morning after Thanksgiving.
1. Beerman - Rico Fata
2. Shafnutz - Bob Errey
3. Pavel Bure
4. Troy Loney
5. Cup Keeper - Don Cherry
6. crayz - Ogie Ogilthrope (we can let it slide)
7. dagny - Jaromir Jagr
8. Malkamaniac - Marty Straka
9. sdm5055 - Steve McKenna
10. mac5155 - Joe Dziedzic
11. MWB - Jiri Slegr
12. Zarovich - Marian Hossa
13. Redwill - Joey Mullen
14. Azkar - Pierre McGuire
15. Senka - Ryan Whitney
16. count2infinity - Eddie Olczyk
17. npv708 - Charlie Conway
18. Juice - Michael Peca
19. JS(c) - Gary Roberts
20. Kicksave - Chris Bourque
21. Hockeyguru - Dino Ciccarelli
22. jaysmiter - Wojtek Wolski
23. tfrizz - Joe Sakic
24. PFiDC - Ian Moran
25. IrishEyes - Superstar Max Talbot
26. jwienand - Scott Hartnell
Mods (for those with roles, please PM all three:
1. Canaan - Jeff Beukeboom
2. NAN -
3. slappybrown -
MAFIA Resources:
http://en.wikipedia.org/wiki/Mafia_(party_game
)
http://www.sitesled.com/members/mikebur
... scum04.swf
http://mikeburnfire.sitesled.com/mscumB.swf