Star Trek TOS Warz 2
We are starting tonight, so PM's can have time to come in. The first write-up will be posted tomorrow at 10 a.m. if all PM's are in. Good luck!
Last time on Star Trek Warz...
Star Trek TOS Warz wrote:Captain's Log Stardate 45224.2

The Enterprise is returning home. Earth spacedock. I for one am looking forward to a little RnR along the pacific coast. My counterpart Spock however...

Spock:

Captain, Klingon bird of prey on an intercept course, 263- mark 10.

Kirk:

Klingons? This DEEP into Federation space? How?

Spock:

A cloaking device. Rendering the ship invisible to Federation sensors.

Kirk:

My God! We must warn StarFLEET immediateLY.

Spock:

They are jamming our communications.

Uhura:

Captain, incoming transmission.

Kirk:

On Screen...
-------------------------------------------------------------------------------------
Star Trek TOS Warz wrote:Ten-forward was packed again after the discovery of IrishEyes body. A few people noticed pittsports87 talking to himself quietly. Only he wasn't. He was on a comm channel, discussing plans with an unkown individual. Rylan walked into ten-forward, and was approached by pittsports87. Pittsports87 removed ear implants, to reveal Vulcan ears. Slowly, the crew realized what was going on.

Spock

emerged from the costume, holding a phaser to Rylan.

Spock

: As Commander and Science Officer of the U.S.S Enterprise, I am placing you under temporary Federation detention. Please come with me.

Rylan: Q'Pla my Vulcan friend!

A fight ensued. Spock applied the Vulcan Death Grip, knocking Rylan out cold. He removed a cheaply made mask. Rylan was
--------------------------------------------------------------------
Star Trek TOS Warz wrote:

Kha'Gar

: Captain, do you think that the empire would leave me here without an escape plan?

Just then, Uhura came over the communicator.

Uhura

: Captain, another Klingon Bird of Prey decloaking!

Kirk

: Red Alert!

Kha'Gar

and the prisoners disappeared in a haze of redish orange as they were beamed aboard the I.K.S Saghvar.

Kirk

,

Spock

and

Chekov

ran for the bridge.

Kirk

: Set an intercept course.

Uhura

: Captain, they're cloaking!

Spock

: It is not over yet...
And now...the conclusion...
--------------------------------------------------------
Captain's Log Stardate 45324.3

A month has passed since our last encounter with the Klingon infiltration force. Thanks to the help of my Vulcan Science Officer, we managed to keep contrtol of our ship despite subverted efforts from the infiltrating Klingon task-force. Starfleet has dispatched us to Deep Space 4, a secret outpost along the border of the Neutral Zone. Starfleet Intelligence has picked up transmissions from the empire, stating that a second task force lead by the Supreme Chancellor himself are en route, or have already arrived at Deep Space 4.
Spock
: They're using a new type of disguise; a highly stable holographic field. This projector disrupts their magnetic field making them appear as regular federation officers.
Kirk
: Well we can't see them, we can't sense them with our tricorders...what do we do?
Spock
: The same thing. I've developed Personal Holographic Displays PHODs for our own use. We disguise ourselves as unimportant Federation officers. Not even the crew will know our identities.
Kirk
: And this is the safest way to do it? There's no way we could...dRESS others up like us?
Spock
: A decoy? And risk a life at the expense of a spy mission? Captain surely-
Kirk
: Right right right, surely I didn't mean it and was testing your Vulcan instincts.
Spock
: Indeed.
Kirk
: Well, let's get these setup and get ready. Scotty?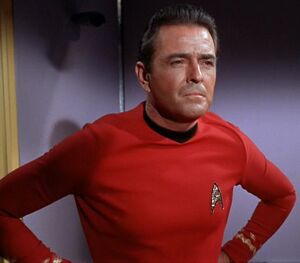 Scotty
: Aye sir!
Kirk
: Punch the engines to Warp 3. We need maximum power to keep us on schedule.
Scotty
: Aye sir, I will try Kep'n! But I'm giving her all she's got down here!
Kirk
: Do it, Mr. Scott. Let's get started Spock. Chekov, you're with us. Ensign Sulu, you have the bridge...
Ensign Sulu: Aye, Captain.
----------------------------------------------------------
The Enterprise arrived at Deep Space 4. Kirk, Spock, Scotty and Chekov were amongst the one-hundred some crewman who disembarked. Unbeknownst, even to their own crew, the 4 set out on the dangerous mission of disrupting the Klingon empire's plans for attack. The officers turned in for the night, knowing that it was going to be a long couple of weeks...
It is now Night 1. PM's to DocEmrick or columbia.
Crew Manifest
1. pittsports87
2. mac1515
3. Rylan
4. redwill
5. bhaw
6. Zarovich
7. nan
8. relantel
9. doublem
10. obhave
11. beerman
12. shafnutz05
13. the wicked child
14. Troy Loney
15. Gaucho
16. Benny Fitz
17. ulf
18. Krafster
19. IrishEyes
20. teib
21, BadHands71